Company Profile
Name
PT. SMFL Leasing Indonesia
Address
Menara BTPN, 31st Floor
Jl. Dr. Ide Anak Agung Gde Agung Kav. 5.5 - 5.6
Mega Kuningan, Jakarta Selatan 12950 Indonesia
TEL:62-21-8062-8710/FAX:62-21-8062-8719
Established
December 2009
Sales Network
Medan, Palembang, Surabaya, Cikarang (4 bases)
Main Shareholders
Sumitomo Mitsui Finance and Leasing Co., Ltd. 85%
PT. Bank Sumitomo Mitsui Indonesia 9%
PT. Sumitomo Indonesia 6%
Business Description
1. Finance Leases
2. Operating Leases
3. Leasebacks
4. Factoring
5. Sales Finance

License
PT SMFL Leasing Indonesia was founded on December 23rd, 2009 after Deed of Establishment No. 09 was certified by Notary Sri Hasmiyanti, SH.
The Company also received the Decree of Minister of Justice & Human Rights No. AHU-0423. AH 01.01. Tahun 2010 on January 25th, 2010.
Our business license, the Decree of Minister of Finance No: KEP-336/KM.10/2010, was issued on July 6th, 2010.
Organizational Structure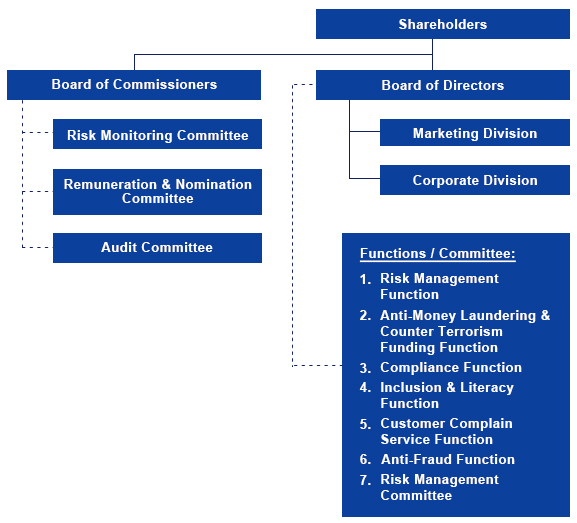 GCG Implementation
Result of PT SMFL Leasing Indonesia Self-Assessment Good Corporate Governance (GCG) The result of the GCG assessment is VERY GOOD as describe in the Diagram below:
Result of Assessment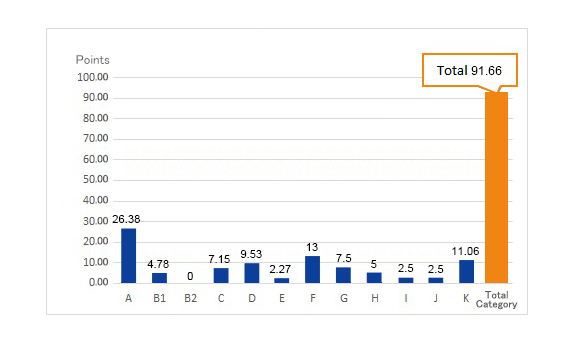 Factor
Category
Points
1
A
28.75
2
B1
4.44
B2
-
3
C
6.44
4
D
9.18
5
E
2.27
6
F
14.5
7
G
7.5
8
H
5
9
I
2.5
10
J
2.5
11
K
10
Total
93.09
Predicate
Very Good
The Factors are consisting of:
1. The duties and responsibilities of BOD and BOC
2. The completeness and implementation of the Audit Committee duties or functions which assisting the BOC
3. The implementation of Compliance, Auditor Internal, and Auditor External function
4. The implementation of Risk Management and Internal Control System
5. The implementation of remuneration policy and other facilities
6. Transparency of financial and non-financial condition of the Company
7. The long term plan, work plan and annual budget
8. Disclosure of share ownership members of the BOD and the BOC
9. Disclosure of financial relationship and family relationship member of BOD
10. Disclosure of financial relationship and family relationship member of BOC
11. Disclosure of other important matters
Assessment Provisions
| Points | Rank | Predicate |
| --- | --- | --- |
| 84-100 | 1 | Very Good |
| 68-83 | 2 | Good |
| 52-67 | 3 | Quite Good |
| 36-51 | 4 | Poor |
| 20-35 | 5 | Very Poor |
Based on the results of its own assessment, PT. SMFL Leasing Indonesia has implemented a company with excellent corporate governance. This predicate is a concrete manifestation of commitment and seriousness in implementing good corporate governance, and will continue to be improved in the future. In carrying out the Company, the Company of all organs to function professionally and free of conflicts of interest. The Company has internal regulations that must be adhered to and uphold ethical values.

In carrying out the duties, Directors always put the interests of the Company and other stakeholders. Decision-making is done independently and objectively through a Board of Directors Meeting. Directors of the company reported a quarterly basis to the Board through the Board of Commissioners.

The Board of Commissioners to supervise the implementation of the Risk Management and Implementation of Anti-Money Laundering and Prevention of Terrorism Financing through board meetings and participate in approving the establishment of risk management policy and the Anti-Money Laundering and Combating the Financing of Terrorism.

The company has a clear organizational structure. Functions within the Company has been equipped by the provisions of the Financial Services Authority (FSA) associated with finance companies. Every function performs their duties and obligations with full responsibility, effective, and efficient.

This is TRUE assessment, we already cooperated with Internal Audit, Risk Management, and Human Resource because the main assessment is related with those Departments. Also, the questionnaire that we distributed to Department Head coming back with a very good result as their own perspective and opinion.

Legal & Compliance reconciles and adjusts all the participants assessment and the result AS IT IS are still very good . Also we consult with our PIC in OJK from time to time.